Thinkpad E14 Gen 3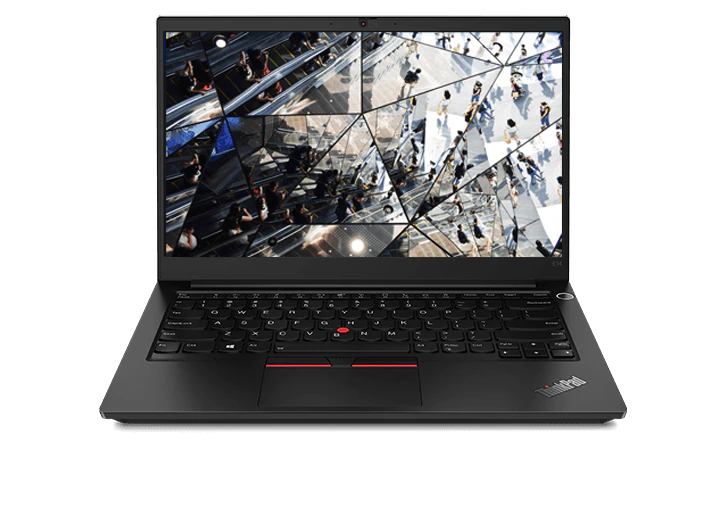 After a lifetime with second hand Thinkpads, and after the sad demise of my x210, for the first time I purchased a brand new laptop. Went with the new AMD based E14 Gen 3, because it's powerful, looks good, is (relatively) upgradable, and I can't bring myself to spend more than £500 on a laptop. With the current prices and limited availability of upgradable second hand models, it seemed the obvious thing to do.
The trend towards soldered RAM and WLAN creates a two-tier second hand market: non-upgradable laptops with 8Gb of RAM can be had inexpensively, laptops with 16Gb and over of soldered RAM attract a premium and their price approximates that of a new machine (the few fully upgradable laptops, such as the L14, are frankly unacceptable in terms of size, weight and screen-to-body ratio, or too expensive, such as the P series). This trend will end up marginally boosting manufacturers' profits, will create even more e-waste and goes in the exact opposite direction of sustainability. Despite my best intentions, I've been a victim of this situation.
Until recently the E series has been the pariah of the Thinkpad world, with these clunky, plasticky, overweight machines, subpar in terms of materials and components. This does not seem to be the case any more. Since the E14 Gen 2 (didn't look into 15" models) the series gained a compact, pleasant looking all alluminium body, with a smaller footprint than the T series (yes, it's smaller than the T14s). Backlit keyboard and Thinkshutter were already offered as options in the otherwise dreadful Gen 1, with Gen 3 we also get a 57Whr battery, superior to all current X,T and L models, a 300 nit 100% sRGB screen, and the latest Zen 3 processors all the way to Ryzen 7 5800U. That big central hinge, so un-thinkpady, is unfortunately still there, although it is now used in the flagship X1 Extreme, so it's no longer the mark of the beast.
That said, the E14 is still slightly heavier than the more prestigious models (weights exactly 1.5Kg on my scale, less than the published specs), the port selection is limited and seems to reduce every year. This machine has only one Usb-C port, one Usb 3.1, HDMI 1.4b, no SD card reader, and the absolute joke of a Usb 2.0 port, in 2021. In comparison, the 2018 E480 had one Usb-C, two Usb 3.1 ports, one Usb 2.0 and a micro SD card reader. On the plus side the E14 retains the full size Ethernet port.
In a world of mushy keyboards, soldered ram and wlan, this machine has some good selling points:
upgradable

RAM

(takes a 32Gb module along the 8Gb soldered)
upgradable

WLAN

(stick an Intel Ax210 in place of that Realtek chip)
a 57Whr battery (larger than any current T, X or L series, matched only by the £1000+ T14s)
a more than decent screen: 300 nits, 100% sRGB, 1920p

IPS

a keyboard with decent 1.8mm travel, reminding of proper Thinkpad keyboards of one time.
not one but two M.2 nvme slots, 2242 and a 2280 type.
a compact form factor, smaller than any other 14" model, bar the X1 Carbon (much heavier though).
the price
Availability and price
Thanks to Lenovo's super clever market segmentation strategy the top spec model is officially only available in certain regions (in Europe the machine is limited to Zen 2 processors and 45% AdobeRgb screens). However, it can still be obtained in this part of the world at a very interesting price (currently 530 GBP for the R7 model) with the help of some ingenuity and a mail forwarder.
Components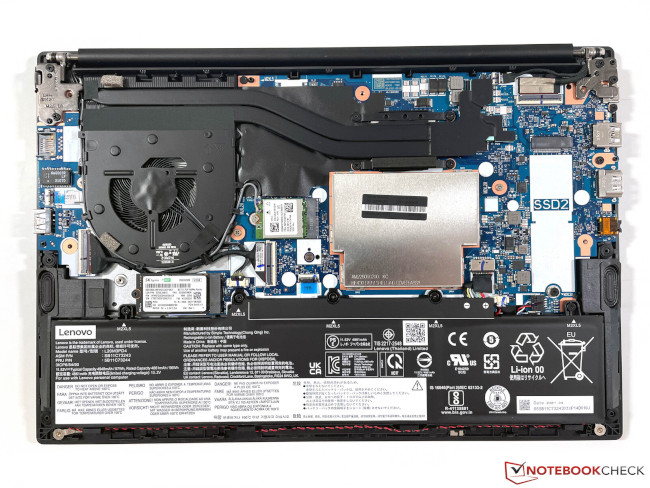 The internal space of the E14 Gen 3 is used very efficiently. The removal of the 2.5" slot, still present in the first generation E14, allows for a bigger battery while keeping good upgradeability. A daughter board attached to the mainboard provides the Ethernet slot and the Usb2.0. The restrictive port selection, at least, allows for a more compact design compared to the better equipped models.
Screen
Even when selecting the top spec model there's a lottery to be won. Lenovo uses two different 100% sRGB lcd screens, one being vastly superior to the other
The AUO part offers higher contrast and supports AMD FreeSync and Panel Self Refresh (PSR2) for increased power saving. Needless to say, yours truly ended up with the worse screen, and will possibly replace it with a 400 nits low power screen once the warranty will have run out.
Lan & Wlan
The Wlan card is not selectable when configuring the machine, and Lenovo's website seems to include alternatively a crappy Realtek chip and an good Intel AX chip, depending on the phase of the moon. This is not a big deal, as the wlan card is easily swapped, and AX210 cards are cheap and easy to come by. The Ethernet card is also a Realtek chip and it also turns out to be crap. iperf3 measures 570Mbps against the router, where other laptops in the house reach close to the theoretical maximum, 948Mbps. The chip needs the out of tree r8168 module, since the in-tree r8169 still doesn't activate ASPM and battery life suffers.
RAM
The 8Gb RAM module soldered onto the E14 is a single rank 3200Mhz Micron part (datasheet). The extra slot will take a 32Gb module, no point in buyng super fast premium RAM, as the soldered module is CL22. A "value" part from the likes of Kingston or Crucial will do the job. One could also choose to purchase the exact same part as the soldered one for maximum dual channel placebo effect https://www.ebay.co.uk/itm/115043067685
SSD
The included 2242 nvme disk is a 512Gb Samsung PM991a A decent mid-tier PCIe-3 ×4 ssd with a deceiving name, which performs slightly below my old 970 Evo. Stuck that in the 2280 slot and ended up with a nice 1.5Tb of storage.
Performance
Lenovo set the TDP of the Ryzen chip in the E14 at 25W, the upper boundary defined by the manufacturer. Overclocking does not seem possible, and performance seems in line with laptops sporting the same CPU. From my recent benchmarks, I'd say slightly above average too:
Linux compatibility
Everything works out of the box with a recent (>= 5.14) kernel, bar the fingerprint reader (which I didn't buy), but including the IR "windows hello" camera (works with howdy). However there are glitches. The CCP encryption processor does not work in Linux (possibly) due to a broken BIOS. Dmesg shows
ccp 0000:05:00.2: enabling device (0000 -> 0002)
ccp 0000:05:00.2: ccp: unable to access the device: you might be running a broken BIOS.
ccp 0000:05:00.2: tee enabled
ccp 0000:05:00.2: psp enabled
ccp_crypto: Cannot load: there are no available CCPs
There are also ACPI errors popping up when attaching and detaching the PSU. These might be addressed with a (possibly imminent) BIOS update from Lenovo
ACPI Error: No handler for Region [ECSI] (000000007c50b769 [EmbeddedControl] (20210730/evregion-130)
ACPI Error: Region EmbeddedControl (ID=3) has no handler (20210730/exfldio-261)
ACPI Error: Aborting method \_SB.UBTC.ECRD due to previous error (AE_NOT_EXIST) (20210730/psparse-529)
ACPI Error: Aborting method \_SB.UBTC._DSM due to previous error (AE_NOT_EXIST) (20210730/psparse-529)
ACPI: \_SB_.UBTC: failed to evaluate _DSM (0x6)
ucsi_acpi USBC000:00: ucsi_acpi_dsm: failed to evaluate _DSM 2
Suspend and Hibernate work well, although I've had hangs when resuming from suspend after disconnecting the laptop from the charger, the problem possibly linked to the errors above. s2idle does not seem to work, however I boot with mem_sleep_default=deep.
The machine runs very cool and the fan is always very quiet, although Lenovo doesn't seem to have done a great job at calibrating it. A more aggressive profile with thinkfan cools the APU better and produces better benchmark results.
Lenovo's BIOS doesn't do a good job at activating power saving features either. To activate ASPM for all pcie devices boot with pcie_aspm=force and set PCIE_ASPM_ON_BAT=powersupersave in tlp.
Overall, power consumption is good. Idle power draw is just under 3W with 33% brightness and the machine should last a good 8 hours of non super intensive work. I wonder how much better it would be with the PSR2 screen.
Conclusion
I must admit that I bought this machine primarily to see if I could game Lenovo and get a model that they had decided I should not get, for a price lower than what they had decided I should pay. Time will tell how durable the laptop is, so far it seems a great buy.
lspci output
00:00.0 Host bridge: Advanced Micro Devices, Inc. [AMD] Renoir Root Complex
	Subsystem: Lenovo Device 5097
	Flags: fast devsel
00:00.2 IOMMU: Advanced Micro Devices, Inc. [AMD] Renoir IOMMU
	Subsystem: Lenovo Device 5097
	Flags: bus master, fast devsel, latency 0, IRQ -2147483648
	Capabilities: [40] Secure device <?>
	Capabilities: [64] MSI: Enable- Count=1/4 Maskable- 64bit+
	Capabilities: [74] HyperTransport: MSI Mapping Enable+ Fixed+
00:01.0 Host bridge: Advanced Micro Devices, Inc. [AMD] Renoir PCIe Dummy Host Bridge
	Flags: fast devsel, IOMMU group 0
00:02.0 Host bridge: Advanced Micro Devices, Inc. [AMD] Renoir PCIe Dummy Host Bridge
	Flags: fast devsel, IOMMU group 1
00:02.1 PCI bridge: Advanced Micro Devices, Inc. [AMD] Renoir PCIe GPP Bridge (prog-if 00 [Normal decode])
	Flags: bus master, fast devsel, latency 0, IRQ 26, IOMMU group 2
	Bus: primary=00, secondary=01, subordinate=01, sec-latency=0
	I/O behind bridge: [disabled]
	Memory behind bridge: fd700000-fd7fffff [size=1M]
	Prefetchable memory behind bridge: [disabled]
	Capabilities: [50] Power Management version 3
	Capabilities: [58] Express Root Port (Slot+), MSI 00
	Capabilities: [a0] MSI: Enable+ Count=1/1 Maskable- 64bit+
	Capabilities: [c0] Subsystem: Lenovo Device 5097
	Capabilities: [c8] HyperTransport: MSI Mapping Enable+ Fixed+
	Capabilities: [100] Vendor Specific Information: ID=0001 Rev=1 Len=010 <?>
	Capabilities: [270] Secondary PCI Express
	Capabilities: [2a0] Access Control Services
	Capabilities: [370] L1 PM Substates
	Kernel driver in use: pcieport
00:02.2 PCI bridge: Advanced Micro Devices, Inc. [AMD] Renoir PCIe GPP Bridge (prog-if 00 [Normal decode])
	Flags: bus master, fast devsel, latency 0, IRQ 27, IOMMU group 3
	Bus: primary=00, secondary=02, subordinate=02, sec-latency=0
	I/O behind bridge: 00002000-00002fff [size=4K]
	Memory behind bridge: fd600000-fd6fffff [size=1M]
	Prefetchable memory behind bridge: [disabled]
	Capabilities: [50] Power Management version 3
	Capabilities: [58] Express Root Port (Slot+), MSI 00
	Capabilities: [a0] MSI: Enable+ Count=1/1 Maskable- 64bit+
	Capabilities: [c0] Subsystem: Lenovo Device 5097
	Capabilities: [c8] HyperTransport: MSI Mapping Enable+ Fixed+
	Capabilities: [100] Vendor Specific Information: ID=0001 Rev=1 Len=010 <?>
	Capabilities: [270] Secondary PCI Express
	Capabilities: [2a0] Access Control Services
	Capabilities: [370] L1 PM Substates
	Kernel driver in use: pcieport
00:02.3 PCI bridge: Advanced Micro Devices, Inc. [AMD] Renoir PCIe GPP Bridge (prog-if 00 [Normal decode])
	Flags: bus master, fast devsel, latency 0, IRQ 28, IOMMU group 4
	Bus: primary=00, secondary=03, subordinate=03, sec-latency=0
	I/O behind bridge: 00003000-00003fff [size=4K]
	Memory behind bridge: fd500000-fd5fffff [size=1M]
	Prefetchable memory behind bridge: 0000000a30000000-0000000a301fffff [size=2M]
	Capabilities: [50] Power Management version 3
	Capabilities: [58] Express Root Port (Slot+), MSI 00
	Capabilities: [a0] MSI: Enable+ Count=1/1 Maskable- 64bit+
	Capabilities: [c0] Subsystem: Lenovo Device 5097
	Capabilities: [c8] HyperTransport: MSI Mapping Enable+ Fixed+
	Capabilities: [100] Vendor Specific Information: ID=0001 Rev=1 Len=010 <?>
	Capabilities: [270] Secondary PCI Express
	Capabilities: [2a0] Access Control Services
	Capabilities: [370] L1 PM Substates
	Kernel driver in use: pcieport
00:02.4 PCI bridge: Advanced Micro Devices, Inc. [AMD] Renoir PCIe GPP Bridge (prog-if 00 [Normal decode])
	Flags: bus master, fast devsel, latency 0, IRQ 29, IOMMU group 5
	Bus: primary=00, secondary=04, subordinate=04, sec-latency=0
	I/O behind bridge: [disabled]
	Memory behind bridge: fd400000-fd4fffff [size=1M]
	Prefetchable memory behind bridge: [disabled]
	Capabilities: [50] Power Management version 3
	Capabilities: [58] Express Root Port (Slot+), MSI 00
	Capabilities: [a0] MSI: Enable+ Count=1/1 Maskable- 64bit+
	Capabilities: [c0] Subsystem: Lenovo Device 5097
	Capabilities: [c8] HyperTransport: MSI Mapping Enable+ Fixed+
	Capabilities: [100] Vendor Specific Information: ID=0001 Rev=1 Len=010 <?>
	Capabilities: [270] Secondary PCI Express
	Capabilities: [2a0] Access Control Services
	Capabilities: [370] L1 PM Substates
	Kernel driver in use: pcieport
00:08.0 Host bridge: Advanced Micro Devices, Inc. [AMD] Renoir PCIe Dummy Host Bridge
	Flags: fast devsel, IOMMU group 6
00:08.1 PCI bridge: Advanced Micro Devices, Inc. [AMD] Renoir Internal PCIe GPP Bridge to Bus (prog-if 00 [Normal decode])
	Flags: bus master, fast devsel, latency 0, IRQ 30, IOMMU group 6
	Bus: primary=00, secondary=05, subordinate=05, sec-latency=0
	I/O behind bridge: 00001000-00001fff [size=4K]
	Memory behind bridge: fd000000-fd3fffff [size=4M]
	Prefetchable memory behind bridge: 0000000a60000000-0000000a701fffff [size=258M]
	Capabilities: [50] Power Management version 3
	Capabilities: [58] Express Root Port (Slot-), MSI 00
	Capabilities: [a0] MSI: Enable+ Count=1/1 Maskable- 64bit+
	Capabilities: [c0] Subsystem: Device 5097:17aa
	Capabilities: [100] Vendor Specific Information: ID=0001 Rev=1 Len=010 <?>
	Capabilities: [270] Secondary PCI Express
	Capabilities: [400] Data Link Feature <?>
	Capabilities: [410] Physical Layer 16.0 GT/s <?>
	Capabilities: [440] Lane Margining at the Receiver <?>
	Kernel driver in use: pcieport
00:14.0 SMBus: Advanced Micro Devices, Inc. [AMD] FCH SMBus Controller (rev 51)
	Subsystem: Lenovo Device 5097
	Flags: 66MHz, medium devsel, IOMMU group 7
	Kernel driver in use: piix4_smbus
00:14.3 ISA bridge: Advanced Micro Devices, Inc. [AMD] FCH LPC Bridge (rev 51)
	Subsystem: Lenovo Device 5097
	Flags: bus master, 66MHz, medium devsel, latency 0, IOMMU group 7
00:18.0 Host bridge: Advanced Micro Devices, Inc. [AMD] Device 166a
	Flags: fast devsel, IOMMU group 8
00:18.1 Host bridge: Advanced Micro Devices, Inc. [AMD] Device 166b
	Flags: fast devsel, IOMMU group 8
00:18.2 Host bridge: Advanced Micro Devices, Inc. [AMD] Device 166c
	Flags: fast devsel, IOMMU group 8
00:18.3 Host bridge: Advanced Micro Devices, Inc. [AMD] Device 166d
	Flags: fast devsel, IOMMU group 8
	Kernel driver in use: k10temp
00:18.4 Host bridge: Advanced Micro Devices, Inc. [AMD] Device 166e
	Flags: fast devsel, IOMMU group 8
00:18.5 Host bridge: Advanced Micro Devices, Inc. [AMD] Device 166f
	Flags: fast devsel, IOMMU group 8
00:18.6 Host bridge: Advanced Micro Devices, Inc. [AMD] Device 1670
	Flags: fast devsel, IOMMU group 8
00:18.7 Host bridge: Advanced Micro Devices, Inc. [AMD] Device 1671
	Flags: fast devsel, IOMMU group 8
01:00.0 Non-Volatile memory controller: Samsung Electronics Co Ltd Device a809 (prog-if 02 [NVM Express])
	Subsystem: Samsung Electronics Co Ltd Device a801
	Flags: bus master, fast devsel, latency 0, IRQ 31, NUMA node 0, IOMMU group 9
	Memory at fd700000 (64-bit, non-prefetchable) [size=16K]
	Capabilities: [40] Power Management version 3
	Capabilities: [50] MSI: Enable- Count=1/32 Maskable- 64bit+
	Capabilities: [70] Express Endpoint, MSI 00
	Capabilities: [b0] MSI-X: Enable+ Count=13 Masked-
	Capabilities: [100] Advanced Error Reporting
	Capabilities: [148] Device Serial Number 00-00-00-00-00-00-00-00
	Capabilities: [158] Power Budgeting <?>
	Capabilities: [168] Secondary PCI Express
	Capabilities: [188] Latency Tolerance Reporting
	Capabilities: [190] L1 PM Substates
	Kernel driver in use: nvme
02:00.0 Ethernet controller: Realtek Semiconductor Co., Ltd. RTL8111/8168/8411 PCI Express Gigabit Ethernet Controller (rev 10)
	Subsystem: Lenovo Device 5097
	Flags: bus master, fast devsel, latency 0, IRQ 113, IOMMU group 10
	I/O ports at 2000 [size=256]
	Memory at fd604000 (64-bit, non-prefetchable) [size=4K]
	Memory at fd600000 (64-bit, non-prefetchable) [size=16K]
	Capabilities: [40] Power Management version 3
	Capabilities: [50] MSI: Enable+ Count=1/1 Maskable- 64bit+
	Capabilities: [70] Express Endpoint, MSI 01
	Capabilities: [b0] MSI-X: Enable- Count=4 Masked-
	Capabilities: [d0] Vital Product Data
	Capabilities: [100] Advanced Error Reporting
	Capabilities: [140] Virtual Channel
	Capabilities: [160] Device Serial Number 00-00-00-00-00-00-00-00
	Capabilities: [170] Latency Tolerance Reporting
	Capabilities: [178] L1 PM Substates
	Kernel driver in use: r8168
	Kernel modules: r8168
03:00.0 Network controller: Intel Corporation Wi-Fi 6 AX210/AX211/AX411 160MHz (rev 1a)
	Subsystem: Intel Corporation Wi-Fi 6 AX210 160MHz
	Flags: bus master, fast devsel, latency 0, IRQ 73, IOMMU group 11
	Memory at fd500000 (64-bit, non-prefetchable) [size=16K]
	Capabilities: [c8] Power Management version 3
	Capabilities: [d0] MSI: Enable- Count=1/1 Maskable- 64bit+
	Capabilities: [40] Express Endpoint, MSI 00
	Capabilities: [80] MSI-X: Enable+ Count=16 Masked-
	Capabilities: [100] Advanced Error Reporting
	Capabilities: [14c] Latency Tolerance Reporting
	Capabilities: [154] L1 PM Substates
	Kernel driver in use: iwlwifi
04:00.0 Non-Volatile memory controller: Samsung Electronics Co Ltd NVMe SSD Controller SM981/PM981/PM983 (prog-if 02 [NVM Express])
	Subsystem: Samsung Electronics Co Ltd Device a801
	Flags: bus master, fast devsel, latency 0, IRQ 33, NUMA node 0, IOMMU group 12
	Memory at fd400000 (64-bit, non-prefetchable) [size=16K]
	Capabilities: [40] Power Management version 3
	Capabilities: [50] MSI: Enable- Count=1/1 Maskable- 64bit+
	Capabilities: [70] Express Endpoint, MSI 00
	Capabilities: [b0] MSI-X: Enable+ Count=33 Masked-
	Capabilities: [100] Advanced Error Reporting
	Capabilities: [148] Device Serial Number 00-00-00-00-00-00-00-00
	Capabilities: [158] Power Budgeting <?>
	Capabilities: [168] Secondary PCI Express
	Capabilities: [188] Latency Tolerance Reporting
	Capabilities: [190] L1 PM Substates
	Kernel driver in use: nvme
05:00.0 VGA compatible controller: Advanced Micro Devices, Inc. [AMD/ATI] Cezanne (rev c1) (prog-if 00 [VGA controller])
	Subsystem: Lenovo Device 5097
	Flags: bus master, fast devsel, latency 0, IRQ 35, IOMMU group 6
	Memory at a60000000 (64-bit, prefetchable) [size=256M]
	Memory at a70000000 (64-bit, prefetchable) [size=2M]
	I/O ports at 1000 [size=256]
	Memory at fd300000 (32-bit, non-prefetchable) [size=512K]
	Capabilities: [48] Vendor Specific Information: Len=08 <?>
	Capabilities: [50] Power Management version 3
	Capabilities: [64] Express Legacy Endpoint, MSI 00
	Capabilities: [a0] MSI: Enable- Count=1/4 Maskable- 64bit+
	Capabilities: [c0] MSI-X: Enable+ Count=4 Masked-
	Capabilities: [100] Vendor Specific Information: ID=0001 Rev=1 Len=010 <?>
	Capabilities: [270] Secondary PCI Express
	Capabilities: [2b0] Address Translation Service (ATS)
	Capabilities: [2c0] Page Request Interface (PRI)
	Capabilities: [2d0] Process Address Space ID (PASID)
	Capabilities: [400] Data Link Feature <?>
	Capabilities: [410] Physical Layer 16.0 GT/s <?>
	Capabilities: [440] Lane Margining at the Receiver <?>
	Kernel driver in use: amdgpu
05:00.1 Audio device: Advanced Micro Devices, Inc. [AMD/ATI] Device 1637
	Subsystem: Lenovo Device 5097
	Flags: bus master, fast devsel, latency 0, IRQ 111, IOMMU group 6
	Memory at fd3c8000 (32-bit, non-prefetchable) [size=16K]
	Capabilities: [48] Vendor Specific Information: Len=08 <?>
	Capabilities: [50] Power Management version 3
	Capabilities: [64] Express Legacy Endpoint, MSI 00
	Capabilities: [a0] MSI: Enable+ Count=1/1 Maskable- 64bit+
	Capabilities: [100] Vendor Specific Information: ID=0001 Rev=1 Len=010 <?>
	Kernel driver in use: snd_hda_intel
05:00.2 Encryption controller: Advanced Micro Devices, Inc. [AMD] Family 17h (Models 10h-1fh) Platform Security Processor
	Subsystem: Lenovo Device 5097
	Flags: bus master, fast devsel, latency 0, IRQ 31, IOMMU group 6
	Memory at fd200000 (32-bit, non-prefetchable) [size=1M]
	Memory at fd3cc000 (32-bit, non-prefetchable) [size=8K]
	Capabilities: [48] Vendor Specific Information: Len=08 <?>
	Capabilities: [50] Power Management version 3
	Capabilities: [64] Express Endpoint, MSI 00
	Capabilities: [a0] MSI: Enable- Count=1/2 Maskable- 64bit+
	Capabilities: [c0] MSI-X: Enable+ Count=2 Masked-
	Capabilities: [100] Vendor Specific Information: ID=0001 Rev=1 Len=010 <?>
	Kernel driver in use: ccp
05:00.3 USB controller: Advanced Micro Devices, Inc. [AMD] Renoir USB 3.1 (prog-if 30 [XHCI])
	Subsystem: Lenovo Device 5097
	Flags: bus master, fast devsel, latency 0, IRQ 90, IOMMU group 6
	Memory at fd000000 (64-bit, non-prefetchable) [size=1M]
	Capabilities: [48] Vendor Specific Information: Len=08 <?>
	Capabilities: [50] Power Management version 3
	Capabilities: [64] Express Endpoint, MSI 00
	Capabilities: [a0] MSI: Enable- Count=1/8 Maskable- 64bit+
	Capabilities: [c0] MSI-X: Enable+ Count=8 Masked-
	Capabilities: [100] Vendor Specific Information: ID=0001 Rev=1 Len=010 <?>
	Kernel driver in use: xhci_hcd
05:00.4 USB controller: Advanced Micro Devices, Inc. [AMD] Renoir USB 3.1 (prog-if 30 [XHCI])
	Subsystem: Lenovo Device 5097
	Flags: bus master, fast devsel, latency 0, IRQ 35, IOMMU group 6
	Memory at fd100000 (64-bit, non-prefetchable) [size=1M]
	Capabilities: [48] Vendor Specific Information: Len=08 <?>
	Capabilities: [50] Power Management version 3
	Capabilities: [64] Express Endpoint, MSI 00
	Capabilities: [a0] MSI: Enable- Count=1/8 Maskable- 64bit+
	Capabilities: [c0] MSI-X: Enable+ Count=8 Masked-
	Capabilities: [100] Vendor Specific Information: ID=0001 Rev=1 Len=010 <?>
	Kernel driver in use: xhci_hcd
05:00.5 Multimedia controller: Advanced Micro Devices, Inc. [AMD] Raven/Raven2/FireFlight/Renoir Audio Processor (rev 01)
	Subsystem: Lenovo Device 5097
	Flags: fast devsel, IRQ 109, IOMMU group 6
	Memory at fd380000 (32-bit, non-prefetchable) [virtual] [size=256K]
	Capabilities: [48] Vendor Specific Information: Len=08 <?>
	Capabilities: [50] Power Management version 3
	Capabilities: [64] Express Endpoint, MSI 00
	Capabilities: [a0] MSI: Enable- Count=1/1 Maskable- 64bit+
	Capabilities: [100] Vendor Specific Information: ID=0001 Rev=1 Len=010 <?>
05:00.6 Audio device: Advanced Micro Devices, Inc. [AMD] Family 17h (Models 10h-1fh) HD Audio Controller
	Subsystem: Lenovo Device 5097
	Flags: bus master, fast devsel, latency 0, IRQ 32, IOMMU group 6
	Memory at fd3c0000 (32-bit, non-prefetchable) [size=32K]
	Capabilities: [48] Vendor Specific Information: Len=08 <?>
	Capabilities: [50] Power Management version 3
	Capabilities: [64] Express Endpoint, MSI 00
	Capabilities: [a0] MSI: Enable+ Count=1/1 Maskable- 64bit+
	Capabilities: [100] Vendor Specific Information: ID=0001 Rev=1 Len=010 <?>
	Kernel driver in use: snd_hda_intel